There is a lot of hard work that goes into running a successful dental clinic. Other than dentists themselves, there are a number of individuals that work in a dental clinic.
Here are some of the most important dental clinic jobs:
Dental assistant
As a dental assistant you play a very important role in maintaining the overall quality of workplace efficiency and dental treatment. A dental assistant's main job is to bridge the gap between office duties and clinical tasks. They're responsible for inculcating discipline within the dental office and ensuring a smooth workflow.
They're in charge of scheduling appointments, greeting and guiding the patients, documenting patient visits, and keeping track of the records. At the same time, a dental assistant also helps prepare the instruments for the dental procedures, sterilize the tools beforehand, and performing x-rays.
They might also be required to assist the dentist. The extent of the tasks varies from one office to another.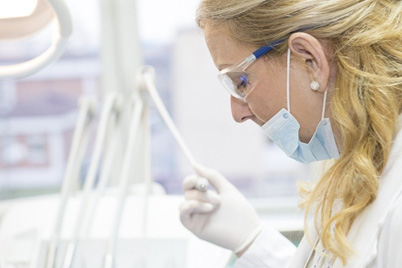 Dental hygienist
A dental hygienist's role is a lot similar to that of a dental assistant. The only difference is that the nature of their work is more on the clinical side.
Technically, a dental hygienist can carry out most tasks that a dental assistant can but they're more focused on preventative dental care. Patients are more likely to interact with a dental hygienist before their standard dental treatment or examination.
As a dental hygienist, your primary duties include removing tartar and plaque from a patient's teeth, tracking their dental care, and educating them regarding proper dental hygiene. To get started with the career, you'd need a bachelor's degree in dental hygiene.
Dental technician
A dental technician has a lot more to do with a laboratory. They're less on the clinical side. A technician's main role is to create, design, and repair oral devices. These include dentures, bridges, crowns, and implants. A dental technician plays their role in helping individuals deal with conditions such as missing, malformed, or damaged teeth.
In order to create the devices, they need a lot of input and communication from a dentist. They also deal with the drawings and blueprints of a patient's measurements. You need a dental laboratory technology certification to get started with the job.
Dental Career Services is a full-service dental clinic recruitment agency that helps you get in touch with the most qualified dental candidates from all over the country. They also helps connect those candidates with the right kind of dental job opportunities in North America. Dental Career Services has been working as one of the leading dental placement service agencies since 1998.